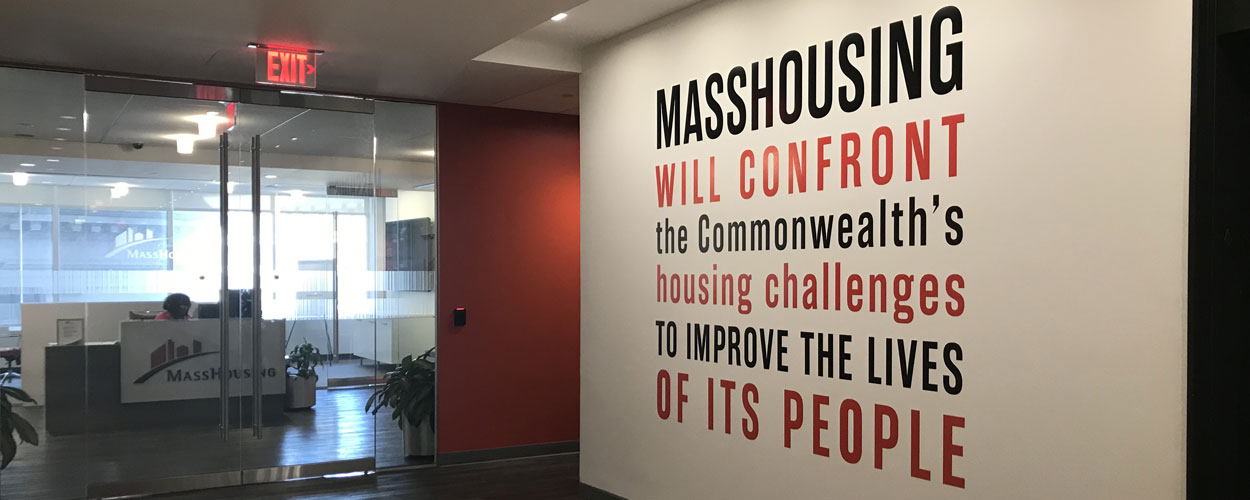 Careers at MassHousing
At MassHousing, we believe a home is more than a roof and four walls. A home is safety and security, opportunity and peace of mind. Our team of talented professionals works to ensure that all Massachusetts residents have a safe, healthy and affordable place to call home. If you share our commitment, we hope you will consider joining us.
Equal Opportunity Employer M/F/V/D
MassHousing is committed to providing an environment of mutual respect where equal employment opportunities are available to all applicants, colleagues and partners without regard to race, color, religion, sex, pregnancy, national origin, age, physical and mental disability, marital status, sexual orientation, gender identity, gender expression, genetic information, military and veteran status, and any other characteristic protected by applicable law. MassHousing believes that diversity and inclusion among our colleagues and partners is critical to our success, and we seek to recruit, develop and retain the most talented people from a diverse candidate pool.
Asset Manager
Organization: MassHousing
Location: One Beacon Street, Boston, MA 02108
Posting Closes: Close of Business on October 13, 2023
Website: www.masshousing.com
MassHousing recently affirmed its longstanding commitment to diversity and inclusion in its 5-year Strategic Goals.
The Organization
MassHousing will confront the housing challenges facing the Commonwealth to improve the lives of its people. A bold mission for an innovative agency. Since its inception in 1966, MassHousing has provided more than $27.5 billion for more than 125,000 apartments and more than 105,000 home mortgage loans. Beyond lending, we also work to promote economic growth and empowerment for families, individuals, and businesses; help communities increase their housing stock; provide hope and homes for vulnerable populations, and look for new, cost-effective ways to provide equitable housing opportunities. We have a relentless determination to confront the Commonwealth's housing challenges and improve lives.
We know that we cannot meet our mission without a workforce that is committed to standing with us in our efforts. We achieve this by making investments in staff development and prioritizing individuals who align with our values including an unwavering dedication to diversity, equity, and inclusion.
As an employee of MassHousing you are offered a great career opportunity which is more than a paycheck. MassHousing's total compensation package features an outstanding set of employee benefits which you should consider towards your overall compensation, including but not limited to:
Tuition reimbursement up to $10,000 per calendar year
A 35-hour work week and a hybrid work schedule
Back up Child/Elder Care
Retirement Savings including a pension and a deferred compensation plan (with a match)
Comprehensive health, dental and vision plans
12 paid Holidays per year and generous sick, vacation, and personal time
Short-Term Disability
Central Boston office location, convenient to public transportation and amenities on site
If you're ready to join our dynamic team of mission driven professionals, this might be the job for you! Interested candidates should send a letter of interest and a resume to MassHousing by logging in to https://prd01-hcm01.prd.mykronos.com/ta/6003873.careers?CareersSearch
Position Summary
The Asset Manager oversees an average portfolio of 35-40 properties comprised up to 4 of MassHousing's business platforms. The Asset Manager analyzes documents to understand the complexity of the financing, affordability restrictions, and compliance requirements of each property.
Specific Duties and Responsibilities
Serves as the primary contact for owners, management agents, federal, state, and local partners, and residents.
Monitors compliance with program and loan requirements and creates risk assessments/action plans for at-risk properties.
Performs property inspections to ensure viability, prudent operational performance, fiscal management, and documents his/her recommendations into the final review report.
Analyzes rent rolls, vacancy and turnover information, affordability profiles, financial operating reports, resident files, compliance with waiting list requirements, fair housing practices, compliance with utilization of the use of restricted units and units set aside for supportive housing, management costs and salaries charged to the property, annual resident services provided, vendor contracting practices, and utilization of minority and women owned businesses to ensure all property goals are being met.
Analyzes Capital Needs Reports and replacement reserve contributions by completing a capital needs sufficiency analysis and adjusting work planned. Makes recommendations to owner on contribution amounts, as applicable. Reviews replacement reserve requests and makes recommendations to his/her supervisor.
Updates the financial, physical, and compliance risk ratings as needed.
Analyzes annual budgets and capital improvement plans provided by the owner/agent prior to the beginning of each year to better understand that year's plan for the property.
Analyzes annual audited financial statements submitted and recommends distribution requests for approval to his/her supervisor. Monitors all loans for affordability preservation and potential Business Development refinancing opportunities, paying particular attention to pre-payable, balloon, and maturing loans.
Supports rental business lines with budget analysis, reviewing new management companies, completing Tenant Selection Plans, and negotiating Management Agreements during loan underwriting.
Knowledge, Skills and Abilities Required
Ability to negotiate non-compliance issues and deliver the message in an effective way that preserves partnerships.
Exceptional critical thinking and problem-solving skills.
Strong work ethic and ability to work independently, and as a member of a team.
Strong interpersonal and communication skills.
Effective time management and project management skills.
Proficiency with Microsoft Office Suite.
Ability to travel to properties throughout Massachusetts.
Minimum Education and Training
Bachelor's degree in Finance, Real Estate Management, Business Administration, or related fields, or equivalent work experience.
2-3 years of experience in Asset Management or multifamily housing preferred, but not required.
Valid driver's license.
Salary Range: $78,915 - $102,590
All positions at MassHousing require a customer service mindset, in accordance with our values: Integrity, Excellence, Collaboration, Respect, Accountability and Service. Inherent in these values is our commitment to diversity, equity, and inclusion for all.
MassHousing is an Equal Opportunity Employer
+ Show Position Description
- Less