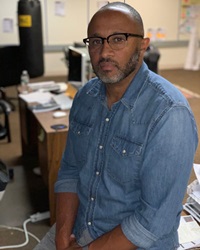 In celebration of National Black Business Month, throughout August we will highlight a few of the Black-owned businesses that work at MassHousing-financed multifamily communities.
City Sealcoating is an SDO-certified minority business enterprise founded by Keith Chaney (pictured right) in 2008.The North Andover-based company has anywhere between 11-50 employees, depending on the number of active projects at a given time. They provide comprehensive asphalt maintenance services, specializing in sealcoating, line striping, paving/pothole repairs, patch work and catch basin repairs.
City Sealcoating has participated in MassHousing trade fairs, which Mr. Chaney finds "most productive," and diverse business matchmaking sessions. They are regular users of MassHousing's Business Opportunities listing, which helps diverse businesses access work at MassHousing multifamily developments. In April, the company was able to obtain financing through the Paycheck Protection Program (PPP).
City Sealcoating has worked with several management companies that manage MassHousing-financed multifamily housing developments, including Peabody Properties, First Resources Management, WinnCompanies and The Dolben Company. Other clients include schools, shopping centers, office parks, healthcare facilities and hotels. The company motto is simple: "People, Process, Product."
MassHousing is pleased to work with many small businesses like City Sealcoating to obtain access to business opportunities at MassHousing-financed apartment communities. Learn more about MassHousing's Diversity & Inclusion efforts.