The JP Hub

works with families and individuals that are facing difficult challenges and may need coordination of services from more than one community agency.

Please use this Situation Introduction Form to present a new case. Download and fill out the form, email it to the address listed on the form.
JP Hub and Hub Model
A proactive approach to building safer communities
The HUB is a new approach to proactively address and prevent crises before they happen. Pioneered in Canada and now making its way to the U.S., the HUB model brings together local law enforcement and community organizations to address housing, health care, substance abuse and mental health, among others.
The HUB team meets weekly to discuss clients facing elevated levels of risk, and to develop immediate, coordinated and integrated responses.
MassHousing has been a key partner in bringing the HUB to Boston from Chelsea. For more information, contact Kara Johnson.
+ Read More
- Read Less
Poverty
Gangs
Gambling
Housing
Emotional Violence
Parenting
Missing/Runaway
Elderly Abuse
Criminal Involvement
Cognitive Impairment
Physical Violence
Substance Abuse
Self-Harm/Suicide
Truancy
Sexual Violence
Physical Health
Supervision
Negative Peers
Social Environment
Mental Health
Unemployment
Crime Victimization
Basic Needs
Antisocial/Negative Behavior
Threat to Public Health/Safety
Human Trafficking
Domestic Violence
Participating Agencies
BEST
(Boston Emergency Services Team)
BPD (Boston Police Department)
BPS (Boston Public Schools)
PAARI (Police Assisted Addiction and Recovery Initiative)
To participate or support the HUB, please contact us: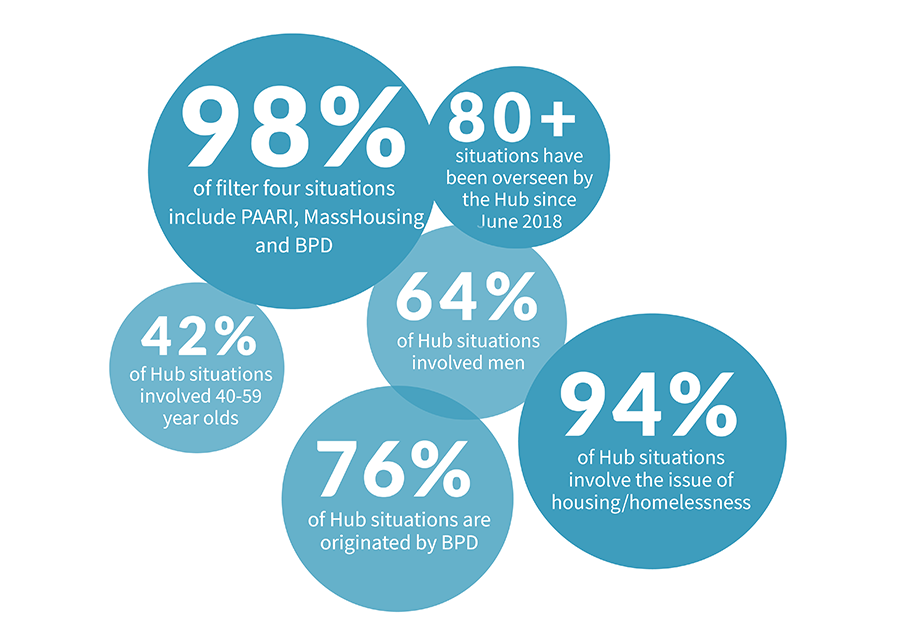 Join us in collaborations that:
Build community trust
Improve inter-agency relationships
Increase safety and security
Allow partners a better understanding of each other's work
Facilitate the ability to track social risks