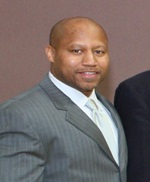 MassHousing's Diversity and Inclusion Division continues to reach out to our diverse business partners during the COVID-19 crisis to gather information on their experiences with the SBA's Disaster Relief Program, the Paycheck Protection Program or PPP. One such business is a 10-year-old SDO-certified MBE waste disposal and storage container company located in Dorchester and serving all regions of the Commonwealth.
ECO Waste Disposal & Container Storage was successful at obtaining funding through the PPP. The company has often attended MassHousing-sponsored trade fairs, meetings with property management companies and small business workshops. They have worked for MassHousing-financed housing communities including Cleaves Dimock-Bragdon, Madison Park III and Franklin Highlands in Boston and Briston Arms in Cambridge.
ECO Waste was established by Jesse Jeter (pictured) and his wife Denise in response to growing public concern about managing waste disposal, portable toilet, and container storage services in an environmentally friendly manner; hence their motto, "An Environmentally Friendly Alternative."
MassHousing is pleased to work with many small businesses like ECO Waste Disposal & Container Storage, not only to assist with obtaining pandemic financial assistance but also to obtain access to business opportunities at MassHousing-financed apartment communities. Learn more about MassHousing's Diversity & Inclusion efforts.