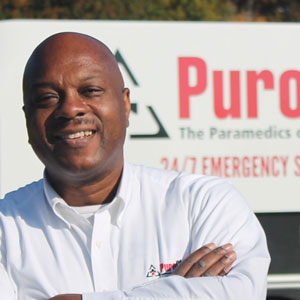 In celebration of National Veterans and Military Families Month, throughout November we will highlight a few of the veteran-owned businesses that work at MassHousing-financed multifamily communities.
PuroClean is an SDO-certified veteran-owned and operated full-service environmental remediation company based in Auburn, Mass. Founded in 2014 by Nigel Belgrave (pictured), PuroClean specializes in water, fire and smoke damage restoration; mold removal; and biohazard and virus cleanup.
"We help families and businesses overcome the devastating setbacks cause by water, fire, mold and other conditions resulting from property damage," says Mr. Belgrave. "We pledge to do whatever it takes to respond, restore and rescue properties in all of the communities we serve."
As a result of participating in MassHousing's trade fairs and business matchmaking sessions, PuroClean has worked with Barkan Management, as well as MassDOT, MassDevelopment, Middlesex Community College and the cities/town of Worcester, Framingham and Auburn.
MassHousing is pleased to work with diverse businesses like PuroClean to obtain access to business opportunities at MassHousing-financed multifamily communities. Learn more about MassHousing's Diversity & Inclusion efforts.