3 questions with Tony Richards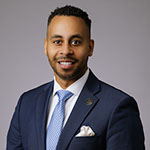 Tony Richards recently joined MassHousing as Vice President for Equitable Business Development. We asked him to share his vision as part of our occasional "3 questions" series.
1. What is your overall vision for Equitable Business Development at MassHousing?
Equitable Business Development is focused on being more intentional around two things.
First, how we earn money; with a goal of increasing the number of BIPOC (Black, Indigenous, People of Color) homeowners and affordable housing borrowers, and by creating and promoting programs that significantly impact socially disadvantaged communities.
Second, we are focused on how we spend our money; by providing advancement opportunities for diverse businesses in focus areas such as goods & services, construction, and property management, and in our own workforce in areas such as recruitment, culture and growth.
Adding these two components together will leverage the affordable housing ecosystem to create housing stability, narrow homeownership gaps, and create wealth-building opportunities for BIPOC people and communities.
2. What are MassHousing's goals for General Contractors and Property Management Companies to be contracting with diverse businesses?
We have multiple programmatic goals to support diverse business and workforce participation in construction, property management and goods & services spending. We also provide technical assistance, trainings, and resources to connect diverse business owners to opportunities in the industry.
We collaborate with construction companies with the goal - in the City of Boston - of awarding 30% of contracts to MBEs and 10% with WBEs. Outside of Boston, the goals are 20% for MBEs and 10% for WBEs. To give you a sense of the economic scale, there were 20 construction projects financed by MassHousing last year, totaling $390 million. $103.7 million was awarded to MBEs, $29 million to WBEs and $10 million to MWBEs.
Minority populations worked 58% of the workforce hours while women worked 3%
For our property management program, we collaborate with management companies to try to have – in the City of Boston – 28% of expenditures going to MBEs and 12% to WBEs, and outside of Boston 14% to MBEs and 12% to WBEs. There are 364 apartment communities participating in this effort, and last year there were $232 million in total expenditures.
We also have goals around MassHousing's discretionary expenses. We are working on a 5-year goal to have 15% of the Agency's discretionary expenditures go to MWBEs and 6% to MBEs.
3. What new initiative are you especially enthusiastic about?
Two barrier-breaking Initiatives. The first is a Business Opportunity Portal, which will be responding to the demand from diverse companies for emerging business opportunities. MassHousing borrowers will be able to forecast upcoming affordable housing development projects and business opportunities (that are not in the MassHousing portfolio) and market to diverse companies in various trade categories. The second is a Diverse Business Directory which will be responding to the demand from MassHousing's rental developer and owner borrowers who are seeking diverse talent to perform work in various trade categories. MassHousing-certified (or self-identified) diverse businesses can be listed in a directory that is categorized by type of trade, revenue size, scope of work and other helpful criteria.